Contact

If you have questions on sales related issue, please contact our sales department at :





For general queries or customer support, please contact our support department at :



---
About our company

JAPISoft SARL is an european company located in France founded by Alexandre Brillant having a decade of combined experience in the software development field and a proven record of delivering quality commercial applications, he's also an XML book author.
JAPISoft SARL focuses on complex java development mainly in the desktop and XML domain.

JAPISoft SARL
SARL au capital de 1000€
R.C.S. COMPIEGNE 751 235 003
SIRET 75123500300025
VAT CEE FR 37 751 235 003


Adress
JAPISoft SARL
4 rue des carrières
60740 Saint Maximin
France
---
Press information
Presentation of EditiX XML Editor :
EditiX XML Editor provides users with an extensive range of XML functionality within a refined IDE that guides you with intelligent entry helpers. EditiX has realtime XPath location and syntax error detection.Helpers are also provided with context syntax popup supporting DTD, Schema and RelatxNG. EditiX supports multiple templates and project management. User can apply XSLT, XQuery or FO Transformation and show the result with a dedicated view. All the process can be managed byshortcuts. Working locally is managed with OASIS XML Catalogs. EditiX includes default templates with XML, DTD, XHTML, XSLT, XSD, XML RelaxNG, SVG, MathML and XML FO.
Logo of EditiX XML Editor :
243x100 :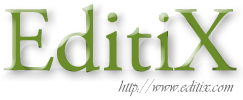 100x41: